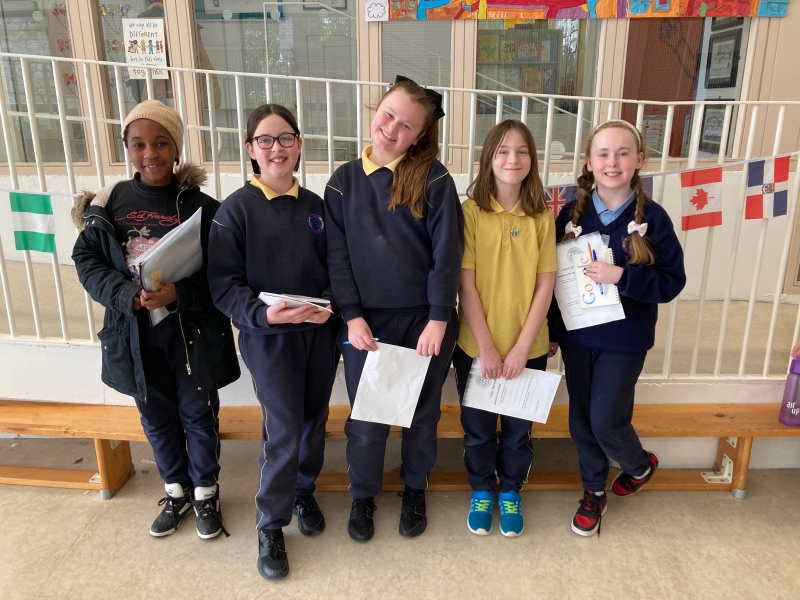 UNICEF International Day - 24th March
St. Brigid's UNICEF International Day will take place on Friday, March 24th
Instead of our uniform, the children are welcome to come to school dressed in the colours of the country their class is learning about. Please see a list below.
If you can, please bring €2 to school on Friday as a donation towards the UNICEF Turkey/Syria Appeal. Communities have been left devasted following the recent earthquake.
A big thank you to the UNICEF Committee and Mr. Finan for organising this International Day. We will have our annual celebration with food from different countries later in the year and Ms. Cronin will be in touch.
Classes - Countries
| | |
| --- | --- |
| Class | Country |
| Junior Infants - Ms. Fallon's | Ireland |
| Junior Infants - Ms. Downey's | France |
| Senior Infants - Ms. Gogarty's | Brazil |
| Senior Infants - Ms. Holian's | Italy |
| 1st Class - Ms. Murphy's | Egypt |
| 1st Class - Ms. Hayes' | Australia |
| 2nd Class - Ms. Baynes' | Spain |
| 2nd Class - Ms. Hayes' | Greece |
| 3rd Class - Mr. Crowe | India |
| 3rd Class - Ms. Lucey's | China |
| 4th Class - Ms. Green's | Germany |
| 5th Class - Ms. Langan's | USA |
| 6th Class - Ms. Guinan's | Mexico |